a kind being requested a day of documentation from us. unfortunately i picked a rather uneventful day to document, oops! here it is, how we spent 06/20/09.
a rather leisurely wake-up. saturday mornings are the quietest times of the week around here. very sweet.
rather self explanatory, you see how filthy we can be though! four people brushing their teeth can leave quite a mark on the mirror.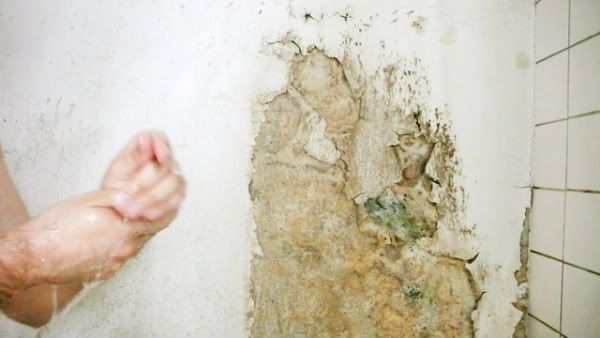 landon washing.
making the bed is a group effort but landon forbids me to post the picture of his bed making on the internet as he had curiously styled wet hair from the shower.
i had put this dress on but quickly decided it was not the right dress for such a dreary day.
landon makes us the most delicious smoothies! i will make a post shortly on his secret recipe (and other recipes as i was asked about my diet in the previous post).
we drink our smoothies, watch lost and i hem a dress.
outside our door from a rowdy party the night before. they look rather cute all lined up.
we are going to visit our new home (unfortunately we are being made to leave this one as they are planning on gutting and turning it into luxury condos, very sad).
first we need to grab a plant from our roof to take over. beautiful view!
the view from our new roof.
we come home and eat snacks with our roommates. i play word mole on landon's phone.
our roommate entertains us with his food.
we retire to our room and get to work. i make this headpiece (you can see it in action
here
) not certain that it is done or how to finish it. any ideas are welcome!
we fall asleep and wake up feeling quite anemic - must find meat. we find an old yearbook and bring it home.
meat success! we go to
peters
. most delicious and decently priced food. we feel revived and head home.
we head out again to an art opening in the lower east side.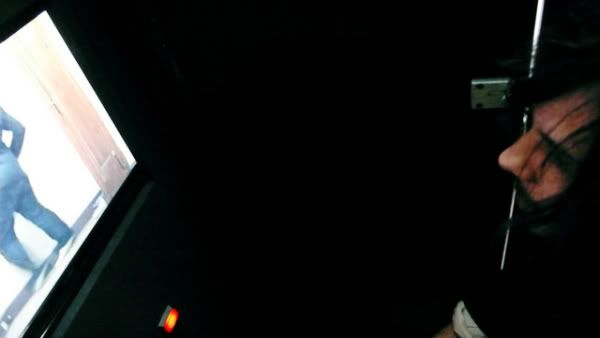 landon inside a buddy booth at the show.
show is ok but home is better. landon hunts for rats as we wait for the train.
on the way home we stop to pick up cookies and milk.
wild parties are happening all around, andrew puts on his party man outfit and we set upstairs to investigate. we find glowsticks, flamingos and tiny bottles of beer. landon makes off with an armful of mini beverages and after a few smooth moves on the dancefloor we come back downstairs.
we gorge on cookies and milk and i rag my hair then i lay down and pretend to sleep for this picture but really stay awake for three hours more feasting on lost episodes and snuggling.

thank you for all your comments on my last post! i'm taking all your suggestions and putting them into action (including the bits of advice from wise guy landon - quite liked that one)!